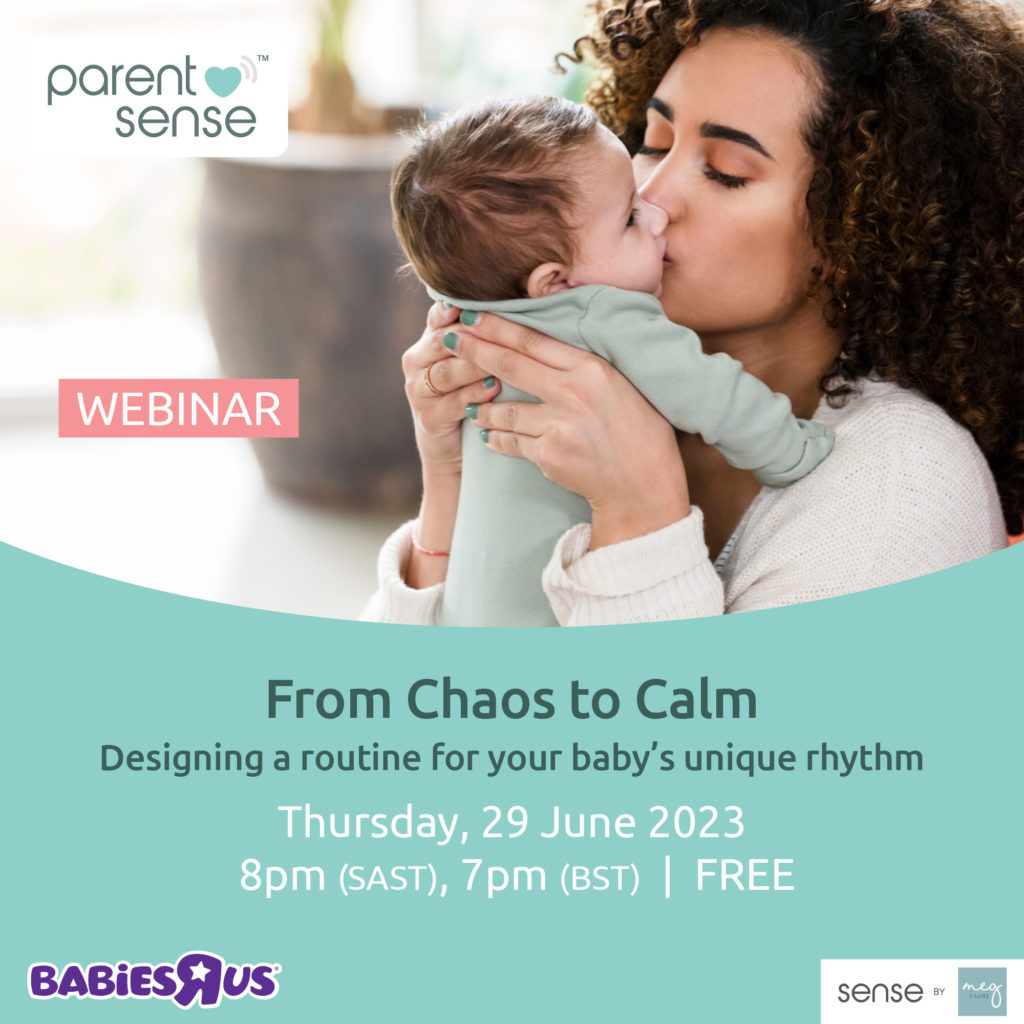 Discover the secrets to a stress-free baby routine
Are you a new parent trying to get some consistency to your baby's daily routine? Are you battling to find the perfect balance between feeding and sleep and everything else you need to fit into your day? We know that the juggle is real and we're here to help!
From Chaos to Calm: Designing a routine for your baby's unique rhythm is the latest online webinar by Parent Sense designed especially for parents like you. Join us on June 29, Thursday, at 8pm SAST / 7pm BST and unlock the secrets to creating an age-appropriate, flexible routine that will revolutionise your baby's feeding and sleep patterns and transform how you approach routines for the better.
Book your place to hear straight from the experts as they guide you through the journey of establishing a harmonious routine for your baby. Best of all, this webinar is FREE for all attendees! Here is what's in store: 
Learn the art of establishing an age-appropriate feeding routine from a leading expert in the field. Kath's insights and practical tips will empower you to provide your little one with the nourishment they need at the right time, fostering their growth and development.
Gain invaluable knowledge from Meg as she shares the building blocks for creating a healthy sleep schedule. Discover how you can pave the way for a content and happy baby through effective sleep management techniques.
But that's not all! In addition to the wealth of wisdom shared by our experts, we have an exciting announcement to make...

Be the first to know as we reveal the latest feature from the Parent Sense app during the webinar!

This groundbreaking feature is set to revolutionise the way you structure your baby's routine and make managing the unpredictable a breeze.

You won't want to miss out on this game-changing revelation!
Register now for From Chaos to Calm: Designing a routine for your baby's unique rhythm and equip yourself with the knowledge and tools to navigate the challenges of early parenthood with confidence. Don't let the chaos overwhelm you; reclaim control over your baby's routine and embrace a calmer, more fulfilling parenting experience.

(BSc OT, OTR) Infant Specialist, author & founder of Parent Sense   
Meg has over 25 years of clinical practice specialising in sensory sensitive & fussy babies. She has worked with thousands of new parents all over the world to help them understand their baby's sensory development and provide practical, science-based guidance about how to have a calmer newborn and baby.
Meg is passionate about supporting & empowering parents to parent with confidence and master their little one's sleep, feeding, weaning, health & development. In addition to being a best-selling author and healthcare provider, Meg founded Parent Sense to support parents where and when they need it. Download the Parent Sense app for expert guidance and support caring for your baby. 

Clinical Paediatric Dietician, author & founder of Nutripaeds
Kath is a leading Clinical Paediatric Dietitian who has been in private practice for the past 24 years. Kath holds four medical degrees, including a qualification in Paediatric and special needs Dietetics at the prestigious Johns Hopkins medical school in Baltimore, USA.
Kath is passionate about helping families navigate through a wealth of nutritional information that is available to them. Kath's private national and international practice, around the country and world, is not only
built on assisting her little patients with their nutritional needs but also offering support to moms and dads. Kath is a sought-after speaker,  contributor and educator across various media about a wide range of topics related to infant and childhood nutrition.